Friday, August 15, 2008
Does Your Kid Have Color?
Who was I kidding, I can't take a break from FMLY. Wherever there's an available internet connection, there'll be a FMLY post. Here's something that I just hand delivered on iheartcomix this very morning...
I come bearing gifts! Colorful Gifts!
Kid Color
gifts, that is.
Straight out of the LA/OC by way of Chicago, Kid Color has delivered one of the most impressive mixtapes I've heard all year while serving up some of the hottest dance tracks that certainly compete with the "big playahs." Whether he's remixing Interpol, mashing up Patrick Wolf or gettin' down n dirty with Bangers & Cash, this kid is adding color to it all making these hits feel so fresh and so clean all over again. Now I wouldn't typically post on anything Daft Punk related - I learned that lesson the tough way - but I am totally digging everything coming from the Color camp. Check these out, plus more available for download on the
Kid Color MySpace
:
Kid Color - Digital Pu$$y
Kid Color - Yo ZongaMajesty
Interpol - Obstacle 1 (Kid Color's She Can Read Mix)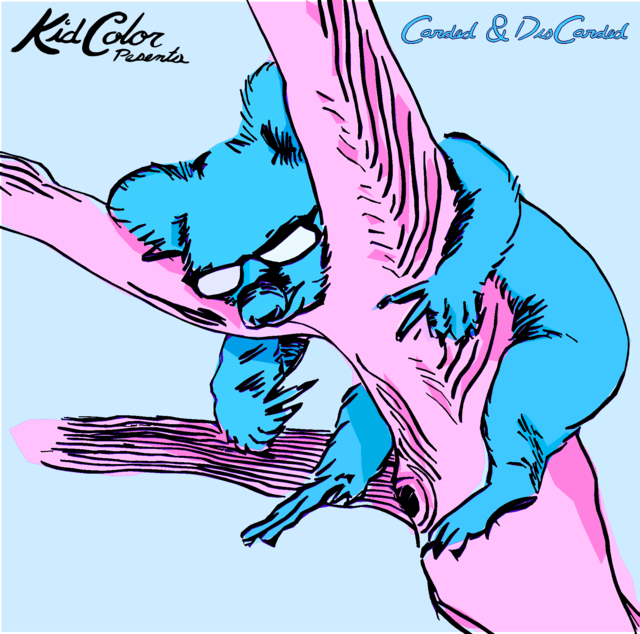 Now we get to the mixtape...
Carded and Discarded came to me out of nowhere, it was through a MySpace add by a musician who had maybe around 10,000 plays at the time. I saw Franki Chan's name listed as an influence so figured why the hell not and downloaded the mixtape without peeking at the tracklist (what's wrong with a little surprise). What came to me was a surge of Animal Collective, Ghostface Killah, Black Ghosts, Avalanches and so much more that I wouldn't dare to press pause on...and yes, Animal Collective was not a typo, the tape begins with a spot-on edit of "For Reverend Green." If you're planning a party, download this and I guarantee that heads will be turned and ears will be cocked. If you're in the Chicago area don't forget to head over to Dark Wave Disco on the 23rd for Kid Color w/ Million $ Mano! More shows up on the MySpace.
Kid Color - Carded&Discarded.zip (single audio file)
Kid Color - Carded&Discarded.zip (individual tracks)
CARDED&DISCARDED TRACKLISTING:
1. Animal Collective – For Reverend Green (Kid Color edit)
2. Ghostface Killah – Charlie Brown (Yuksek Remix)
3. The Black Ghosts – Face (Philipe De Boyar Remix)
4. Simian Mobile Disco – Hot Dog
5. Bobmo – To The Bobmobile
6. The Count & Sinden feat. Kid Sister – Beeper (A-Trak Remix)
7. Does It Offend You, Yeah? – Weird Science
8. Kid Color – Yo ZongaMajesty!
9. Kid Color – Phoenix B-O-O-T-A-Y
10. Chromeo – Fancy Footwork (Guns N Bombs Remix)
11. Junkie XL – Booming Right At You
12. Timbaland – Miscommunication (The Bloody Beetroots Remix)
13. Them Jeans – Lloyd vs. Yuksek (Them Jeans Blend)
14. D.I.M. – Is You (JFK Remix)
15. Kid Sister – Pro Nails (Bag Raiders Remix)
16. Kid Color – Digital Pu$$y
17. Daft Punk – Digital Love (Red Foxx's Bmore Surprise Mix)
18. Justice – D.V.N.O. (LA Riots Bootleg Remix)
19. Klaxons – Golden Skans (Switch Remix)
20. Death From Above 1979 – Sexy Results (MSTRKRFT Remix)
21. Death From Above 1979 – Sexy Results (Blake Miller Is Ruthless edit)
22. The Avalanches – Ray of Zdarlight
23. Sebastian – Ross Ross Ross
24. Kid Color – Throw Some Data On That Mix
25. MSTRKRFT – Street Justice (MSTRKRFT remix)
26. Herve & Yo Majesty – Get Low Club Action (Scattermish Timid Fuckup edit)
27. Cut Copy – Lights & Music (Boys Noize Happy Birthday Remix)
Labels: Kid Color
Subscribe to Posts [Atom]