Wednesday, November 26, 2008
Cred Report: Lucky Dragons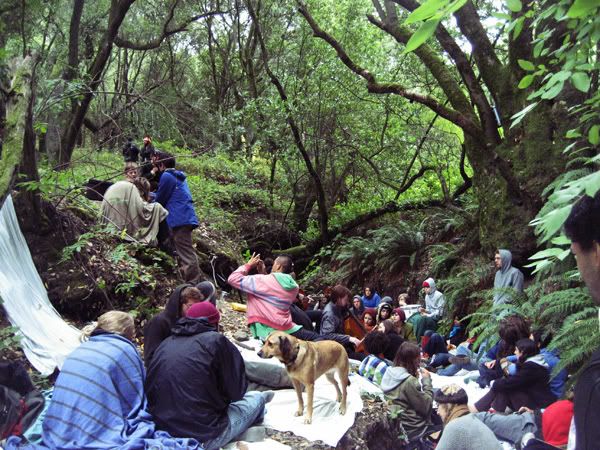 [High Places, Soft Circle, Lucky Dragons and Hawnay Troof collaborative acoustic set in a creek bed next to a crater. Berkeley/Oakland Hills, CA. via]
I realize I've never given out mad cred to some artists who seriously deserve it.
Lucky Dragons
are without a doubt pushing boundaries within their realm of dronish computer trance. If that doesn't make sense it's chill because it's incredibly difficult to describe the sounds heard on
Dream Island Laughing Language
. To take an easy route they could be dubbed "a West Coast version of Brooklyn's High Places" [
via
], but that's not creative, that's not original and unique, that's High Places and not Lucky Dragons. Where's the magic of originality and the air of expression that Luke Fischbeck deserves!? On his - now their - eighteenth release, which to be fair was officially released in May via Marriage Recs, these Lucky Dragons get more compression, more organic and more badittude making for one creatively crafted experimental release. I'm proud to say that Sara and Luke reside in Los Angeles and put on some incredible shows that I caught over summer. They'll be going on a full tour of the US in January and February and it's up to you to book it for them! If you want to see Lucky Dragons in your town, playing your house and sleeping on your floor then contact them asap and tell 'em FMLY sent you: angryclouds_k@yahoo.com
"Live, Fischbeck breaks down the barrier between audience and band by conducting his concerts as workshop-style situations. "Complement Song" (2006) implores audience members to compliment each other. The Make a Baby project (2005– ) generates sound based on skin-to-skin contact: via conductive sensors knit into tapestries or handheld tubes and wired to his computer, Fischbeck "meaningfully interprets" frequencies sent through participants' physical interaction into a series of digital feedback loops. As audience members surround Fischbeck or hold hands to stay connected, determining the crowd's visual organization, he also distills these signals into animated representations of human motion that appear on a screen as colorful moving patterns. Microcosmic realizations of the artist's stated desire for a world "free of irony," the sincerely cultivated, loving environments Lucky Dragons creates with every project empower the individual, reminding listeners of our ability to effect change in other social arenas." [Trinie Dalton, via]
To make this short and sweet, Lucky Dragons, we're lucky to have you.
Catch 'em December 6 at the Echo Curio in Los Angeles and December 11 and 12 in NY. Tour dates can be found
here
as well as information concerning releases and other interesting tidbits.
Lucky Dragons - Givers
Lucky Dragons - I Keep Waiting For Earthquakes
edit: sorry about the 'they' and 'he' confusions. i find it hard to distinguish where luke and sara's contributions meet. there are also lucky dragons related content such as 'glacier' which i'm not familiar with but i understand is rad. head over to the glaciers of nice online shop
here
and pick up some new sounds and art.
Labels: dream island laughing language, high places, Lucky Dragons
Subscribe to Posts [Atom]